Slavutych ***
---
The hotel is situated on the left bank of the river Dnieper in the picturesque zone Rusanivka, that is called "The Kyiv Venice". You can see a wonderful view of the right bank with its historical monuments and green parks.

The distance to the heart of the city is 8 km, to the railway station 10 km, to the international airport "Boryspyl" 25 km, to the bus terminal 5 km.

The year of putting into operation 1972. The amount of buildings 1. The amount of storeys 16 . The hotel has 516 rooms: 260 single, 245 double and 28 de luxe. Restaurant, cafe, bars, shops, beauty cosmetic and massage parlours, sauna, guarded parking lot.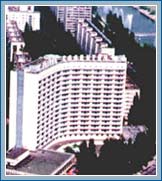 1 Entuziastiv St., Kiev