Salut ***
---
Built in 1982. The hotel is located in Pechersk district, not far from Park of Glory. Magnificent view of the Dniper river and the Left Bank. Walking distance to transport links.

The distance to the railway station is 7 km, to the bus terminal - 10 km, to the airport - 30 km.

The year of putting into operation - 1985. The amount of buildings - 1. The amount of storeys - 7. The hotel has 45 rooms: 39 single and 6 de luxe. Restaurant with European cuisine. Violin music in the evening. Bars, beauty parlour and hair dressers', drug-store and first aid station, currency exchange office, conference hall, business centre.
Functions the whole year.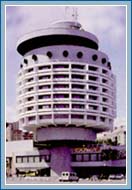 11-A Sichnevoho Povstannya St.