Express ***
---
The Hotel Express is conveniently located in relation to the city center, railway station, subway, the ancient Botanical Garden, the Cathedrals of St. Vladimyr and St. Sofia, the National Philharmonic Society, and the Grand Opera.

Quietness, however unusual it might seem in a big city, and home-like cosiness await guests in 123 rooms that can accommodate up to 190 people. In each of the singles, doubles, and apartments one will find a refrigerator, TV, and telephone. Additional amenities include currency exchange, souvenir kiosk, tourist services, international telephone, fax, and copy service. Also available are a restaurant and a bar.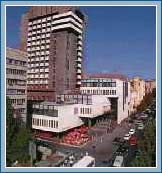 48/50 Shevchenko Blvd.